There were 9,281,500 skateboarders in the U.S. in 2009. Although the number fluctuates from year to year, on average, it has been rising steadily since the '70s. As a beginner, plenty of things can run over your mind when in the market for the best skateboard for beginners. Many newbies settle for boards that look 'cool' without even considering important features such as size, wheels, deck, shape etc.
To help you make the right decision, we have lined up the best skateboards for beginners together with tonnes of other crucial information related to the same.
Penny Boards Vs. Skateboards
If you desire a board that is ideal for commuting, then you should choose a penny board. This is because of its lightweight nature and small size both of which make the board comfortable. However, if you are up to more challenges, then a skateboard is the right option.
Since penny boards are made of plastic, they tend to be lighter in weight. They are available in 3 deck sizes – the 36-inch, 27-inch, and 22-inch. Penny boards are a darling of many people also because they come in an array of colors and designs, unlike skateboards.
Upsides
Penny Boards
Highly durable
Comes in numerous designs and colors
Highly portable
Convenient due to their small size
Skateboards
Ability to handle an array of fun tricks
Easy to learn
Inexpensive
Easy to carry around
Downsides
Penny Boards
Limited purpose
Challenging to ride at first
Skateboards
Heavier than penny boards
Might tear up your shoe with extended use
How To Learn Skateboarding Fast
It does not matter whether you are skinny, tall, overweight, young, or old; skateboarding is one of the most fun sports to master. While that is the case, the most important thing to know that is you cannot master all skills at day one. The entire process takes dedication and time.
Sadly, most of the guides online teaching beginners how to learn skateboarding entirely skip the basics and move to the advanced tricks, which can take years to master.
As a beginner, to learn skateboarding, here are some of the things you need to do:
Step #1 – Place your newly bought skateboard on the ground
Step #2 – Place your feet at the right position
Step #3 – Jump on and off. Lean backward and forward
Step #4 – Begin learning how to push
Step #5 – Learn how to curve
Step #6 – Learn how to ride
Beginner Skateboarding Safety Tips
While getting injured as you skateboard is common, you can reduce chances of getting an accident by following these recommendations:
Always use a high-quality skateboard
Skateboards come in three main parts – wheels, trucks and deck. The deck is the board itself. The truck is the mechanism where the wheels are attached. Shorter decks are the most ideal for beginners. Balancing and handling them is easier. Regardless of what you use your skateboard for – speed, freestyle, slalom, & downhill – you need to make sure that you buy a quality one.
Always ensure your skateboard is in proper working order
Always inspect your board before riding. Be on the lookout for issues that require repair. Some of these include cracked, broken, or loose parts. You should also check for jagged or sharp edges as well as wheels with cracks and nicks. Now that you are a beginner, it would be appropriate to have a professional or an experienced rider repair any issue you come across.
Learn how to stop properly
You must learn slowing and turning skills. Secondly, equip yourself with techniques on how to fall safely. Rather than landing on your arms, try landing on the fleshy parts of the body.
Always wear proper protective equipment
Even before you step onto your skateboard, you should empty your pockets of sharp and hard objects. Once you do that, put on your protective gear. Some of the essentials include:
Shoes
Elbow and knee pads
Wrist guards
A properly fitting helmet
Stay in shape
By being in top physical condition, you can prevent some skateboarding injuries. Do the following:
Before and after skateboarding, stretch and do some conditioning exercises
Avoid putting headphones while skateboarding
Avoid putting more than one rider on a skateboard
Always be considerate of fellow skateboarders particularly the younger ones
What Skateboard Size Is Ideal For Beginners?
Contrary to the opinion of many people, the width, unlike the wheelbase or length, is the most important aspect when it comes to choosing a skateboard deck. Decks vary in width from 7.5 inches to 8.25 inches. The ideal width size depends on your skating style, shoe size, height, and personal preference.
Making the mistake of choosing a board that features a too-large width means that you will have to exert excess power. This can make trick riding and skateboarding difficult. On the other hand, if you select a board with too tiny width, you will experience challenges related to balancing and stability.
Most teens and adult riders that are starting should settle for a board with a 7.5-inch width. However, depending on your shoe size and build, a wider board feels more stable.
Follow these guidelines:
5 inches and above – They are excellent for cruising, pools, vert, or just going old school.
8 to 8.25 inches – These boards are perfect for parks, rail, ramp, and skating pool.
5 to 8 inches – As aforementioned, these are ideal for teens and adults who are starting. They are the standard boards for riders with the desire to skate on the streets.
Best Skateboards for Beginners Quick Summary
Best All-Round – MINORITY 32inch Maple Skateboard
Best For Tricks – POSITIV Skateboard
Best For Kid Beginners – SkateXS Beginner Skateboard
Best For Kid And Teenagers Beginners – RIMABLE Complete 22'' Skateboard
Best For Adult Beginners – KPC Pro Skateboard
Best Value – Krown Rookie Checker Skateboard

MINORITY 32inch Maple Skateboard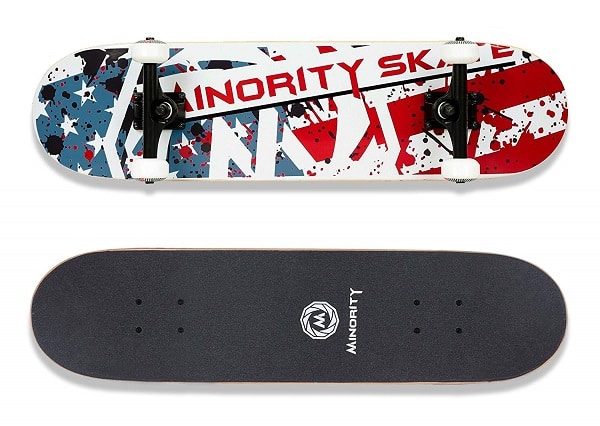 Every beginner skateboarder should be a fan of the MINORITY 32'' board. Without a doubt, it is perfect for newbies. The striking feature about this board is the fact that it is wide enough to ensure you feel completely in control.
Its deck is made from 100 per cent Maple to make it among the most premier quality decks on the market. The 7-ply hard rock maples ensure that it is long-lasting and extremely durable. It boasts the ability to hold the weight of up to 220lbs.
Do you plan to do some tricks with your board? Then you should consider this one. Its design makes it a good option if you want sharp maneuverability or carved out turns. It comes in medium concave shape with a nose and kicks tail. Its 5-inch trucks that are cast by authentic aluminum allow are a distinguishing feature of the board from the rest.
The skateboard is also equipped with 78A high rebound PU bushing and carbon steel kingpin that make it perfect for pools, ramps or even cruising through the streets. It is available in an array of artwork and styles. To be exact, you can choose from 10 different designs. The board is not only cool and classic but also aesthetically engineered.
Pros
Beautiful design
Sturdy
Heavy-duty deck
KPC Pro Skateboard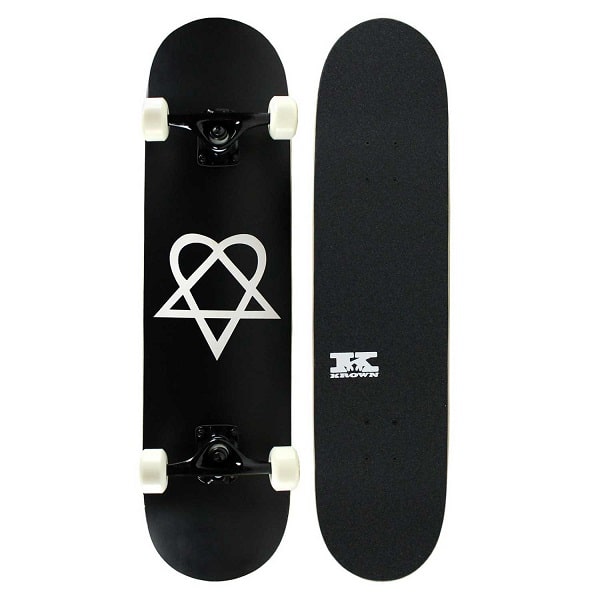 Learning different skateboarding tricks using this board is easy. This is because it is a slow skateboard. Secondly, it only weighs 5 lbs making it extremely light for beginners. Due to its lightweight nature, handling it becomes convenient and easy.
It comes in a deck that is made of Canadian maple wood. The board has Abec 7 bearings with trucks made of aluminum having a black coating. The company makes its wheels to guarantee quality. They help when it comes to smooth landing and riding of the board over pavements. We also loved the wheels because they are bump-free and quite smooth.
In terms of the board's design, you get to enjoy several cool, funky, and simple designs to select from. The designs come in black and white checkers. Other colors such as red flame and purple flame are available too. We loved shadow blue.
At the top of the skateboard, plain black grip tape gives the board a highly decent look. When it comes to size, it is 32'' long and 8'' in width. This size is perfect for learning as well as performing kickflips, tricks, and many others.
The only issue we established with this skateboard has to do with its trucks and bearings. We believe that there is room for improvement. Fortunately, they are replaceable parts, so replacing them should not be challenging.
Pros
Different colors to choose from
Easy to assemble
Slow (which makes it perfect for beginners)
Appealing design
RIMABLE Complete 22'' Skateboard
RIMABLE is handy for both teenagers and kids or anyone that is looking for a beginner skateboard that offers value for money. If you consider the original Penny Boards to be costly, then you can settle on Rimable as a pocket-friendly alternative.
That being said, let us dive straight in and check out what this skateboard is all about. It is a mini plastic cruiser that features excellent build quality. It brings with it a waffle top deck to the utmost stability as well as grip. The board has a solid 3-inch aluminum truck to greatly improve its maneuverability. That explains why it is an excellent board for beginners.
When it comes to its design, there is no limitation. Choose from twenty-five different designs. Whether you want a simple or eye-catching one, the board has various designs for everyone. Our personal favorites are the Graffiti and Galaxy designs.
In terms of size, Rimable is 22-inch long and with a 6-inch width. It boasts a super smooth PU wheel that measures 59mm and a hardness of 78A. The company used premium quality ABEC 7 bearings with top-notch speed lubricants for a smooth experience.
The only drawback we noticed is that we would have loved the company to provide a variation of sizes – perhaps 27-inch and 22-inch. Probably that would have made it ideal for adults too. Since its deck is small, we would not recommend this board as you would have such a difficult time balancing. However, if you are a beginner kid or teenager, then this board is an excellent choice.
Pros
Stiff and durable
High-rebound
Smooth wheels
Robust
Cons
Not ideal for beginner adults
WiiSHAM Skateboard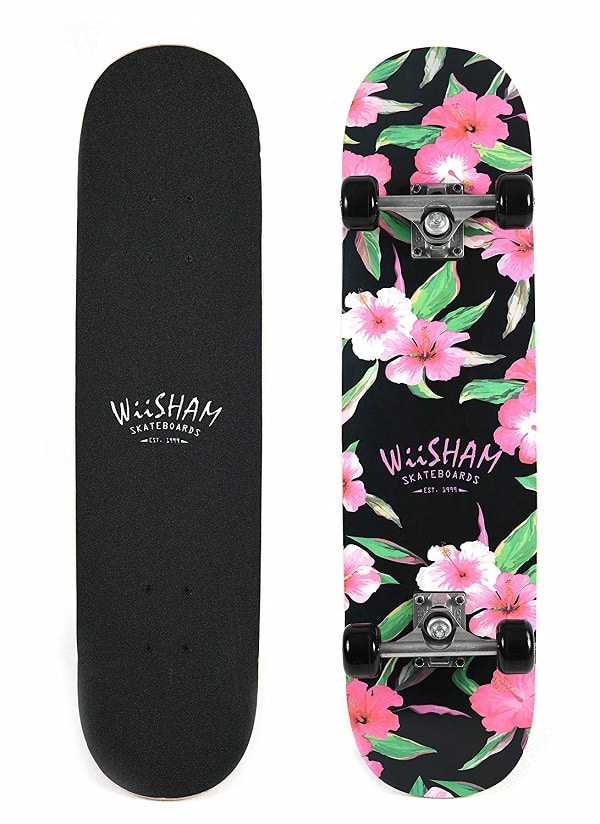 If you are a beginner looking for a board that you can ride even after becoming a pro, then you should consider buying this one. It is well built and can bear all the beating or wear and tear one puts on it while learning skateboarding.
The board's deck features 7-ply superior maple wood. It has incredible flexibility to it, which make riding it, a walk in the park. The flexibility also reduces the risk of breaking. Its metal trucks are made in such a way that they make turning/carving smooth and easy.
Another great highlight of this board is the fact that it does not shake. Therefore, as a newbie, you will not have to worry about balancing issues. Its stability is out of this world to make it easy for you to ride on the skate parks and sidewalks.
The board performs optimally less than 200 lbs. Otherwise, it can get shaky, or you will have to replace its trucks. In terms of pricing, it is reasonable. Since many beginners do not have plans on investing much in a new board, its price should work well with most budgets.
Whether you are a boy or girl, you will fall in love with the various designs the board comes in. For example, girls will fall in love with the board's flowery pattern. It looks pretty and refreshing. Its overall look is sturdy and stylish.
Pros
Well-built
Sturdy
Stable
Great flexibility
Reasonable pricing
POSITIV Skateboard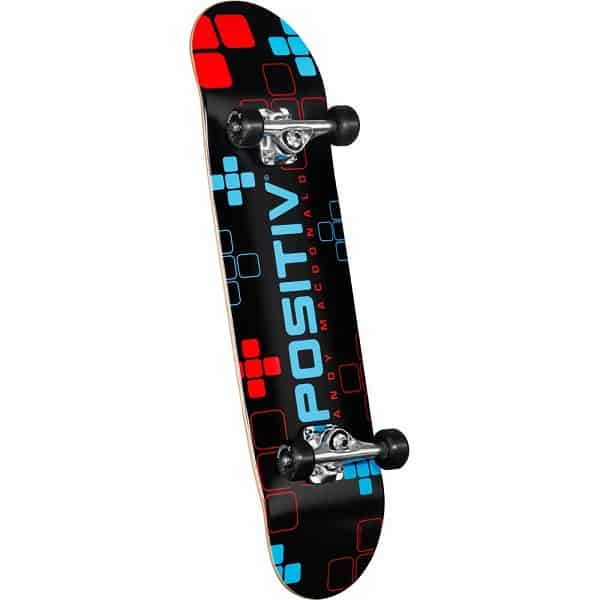 Just like its name suggests, this brand of skateboards focuses on the energetic and positive side of skateboarding. Sandro Dias, Rodney Jones, and Andy Mcdonald are the brains behind the success of this board. Their vision was you create high-quality boards for different levels of riders. Consequently, whether you are a pro or beginner, you can find a board that fits your needs from POSITIV.
We noticed that this board is trick-oriented. Its high-gripping wheels constitute the board's best feature. The wheels work excellent for tricks that allow you to move smoothly even on slippery surfaces without hurting yourself by following off.
Another impressive attribute of this board is that its trucks are mounted at an excellent height. The great positioning is what many skateboards in today's market lack. Because of flawed design and positioning, many of them split and crack due to the kickflips, ollies, and grinds particularly if one does not land on the bolts.
The board comes in various designs to amaze your eyes. We loved the signature POSITIV design as well as squared that are configured into crosses.
What about its size? It measures around 32.1 inches long and 8 inches in terms of width. The deck shape is 127. Its wheels are roughly 54mm by 37mm and a hardness of 99A.
The only flaw we established with this board is that it does not have far-out designs.
Pros
Durable
Made of great quality maple wood
Great positioning of trucks
Tricks oriented
Cons
Not ideal if you are looking for a board with far-out designs
SkateXS Beginner Skateboard
SkateXS is widely popular as one of the best brands for children that desire to improve their skateboarding skills. This particular board is also designed with children beginners in mind. That explains why it brings with it countless customizable features for beginners to enjoy.
If you are a passionate skateboarder and have plans to introduce your kids to the hobby/sport, this is one of the safest skateboards for the little ones. Although it is tailored for kids, its quality is as high as those for adults. You can rest assured that this board boasts a child-friendly design. It has a panda cover that you can choose from eight colors. This is a great feature for parents with many kids and do not want to mix up their equipment.
In terms of size, dimensions reflect that is tailored for kids specifically. It comes in three size batches for ages 11-12, 8-10, and 5-7. Regarding endurance, the skateboard is environmentally friendly and sturdy.  It is made of bamboo that provides its lightweight nature for kids to have an easy time carrying around. The lightweight nature also means that in case it falls on your child, it will not cause any damage.
On top of different color options to choose from, it is also customizable, which means you can even name your kid on the board. Its grip tape is excellent to add to the general quality of the board.
Although it might be a little bit pricey for some parents or guardians, the value you derive from the board is immense.
Pros
Light, bamboo pro deck
8 colors to select from
Removable shields
Premium grip tape
Krown Rookie Checker Skateboard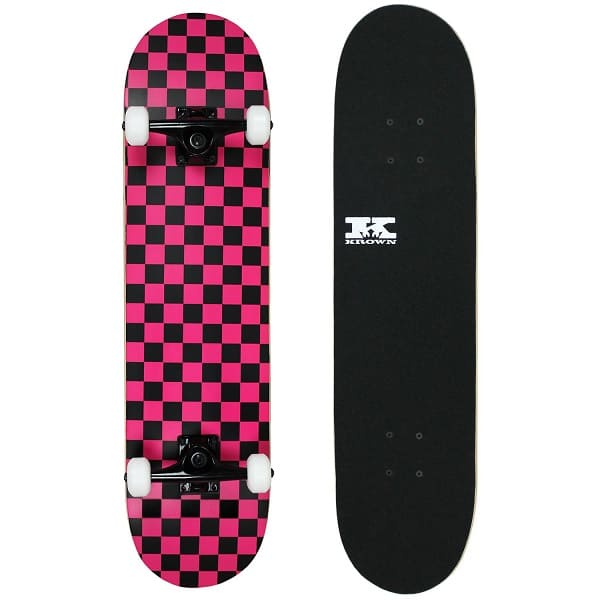 Krown is a reputable manufacturer of skateboards. The company has been in operation since the late '90s. Throughout the years, the company has been producing high-quality skateboards, helmets, pads, and longboards that come at budget prices.
As a beginner, you can trust this skateboard from Krown. The Rookie Checker provides you with durable and sturdy craftsmanship, which is something many skateboarders look for in a skateboard.
In terms of design, the skateboard comes in seven checkered colors. With its design, this skateboard is an excellent choice if you are looking for one that skates well and boasts an exciting look.
When it comes to size, its size is excellent for any beginner. The fact that it is lightweight and narrow makes it great for cruising. What about endurance? The company made the board from heavy-duty aluminum featuring an 80-grip tape. With it, you can skate safely without having to worry about your product's durability.
The board's modern concave design allows for more pop. You can pull any kind of stunt you desire.
Pros
Budget-friendly
Modern, concave design
Lightweight and narrow
Comes in seven colors
Cons
Can be difficult to turn because of truck design