As time advances, kids continue to receive much cooler toys. Toy cars and stuffed toys don't make them joyous anymore. Nowadays, kids want the real thing. One of the coolest play buddies kids cannot wait to have is a dirt bike. Hard to believe but even three-year-olds can ride these bikes with fantastic precision.
Dirt bikes come in an array of sizes and shapes, different capabilities, diverse powertrains and huge price differences. Confused about which dirt bike brands to trust? The most reputable ones include:
Why you should buy your kid a dirt bike?
The most successful professional motorcyclists began their careers on two wheels at a tender age. Racing heroes such as Marc Marquez, Valentino Rossi, and Nicky Hyden started riding motorcycles immediately they could walk. So what are some of the reasons why you should but your kid a dirt bike?
For starters, learning how to not only control but also ride a motorized bike assists your little one to develop a strong affinity with machinery. Once he or she can ride something, you child will want to learn how to tinker with the ride by pulling it apart and then reassembling it back. Ultimately, children not only learn but also appreciate and respect how their engines work and how to effectively use them (and importantly, how not to use them.)
Secondly, as much as riding a dirt bike can turn out to be an educational experience, it is also a fun too. If you are a rider yourself, it would be selfish to keep all the excitement and thrill of riding to yourself. You can transfer it by buying your little one a kid dirt bike.
Kids Dirt Bike Age Guide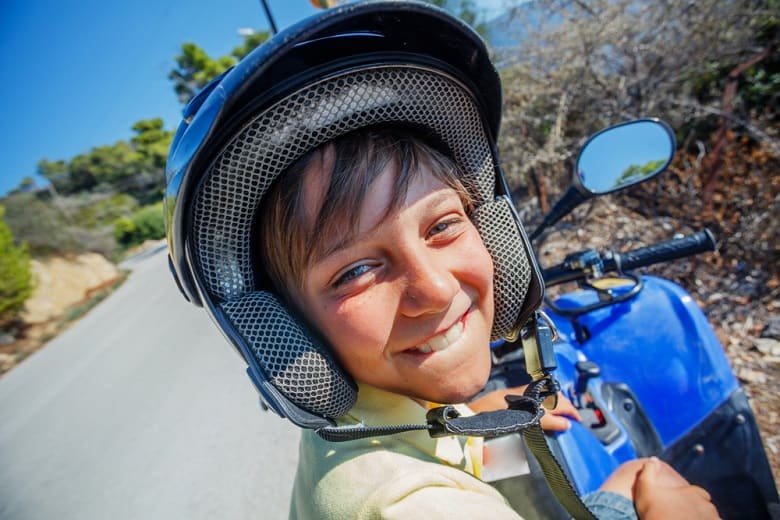 Toddlers
While some parents and guardians might consider it controversial to allow their toddlers to ride a motorized bicycle, with the right precautions, your little one should be fine. For instance, a 6-volt dirt bike with a set of training wheels is a great starting point for the young one until he or she is 3-4 years. Such a bike gives him or her, the comfort he or she needs behind the handlebars. Attaching a lanyard behind the bike enhances safety of your kid. Just ensure you maintain the speed below 5mph.
3-6 years
Generally, kids this age should ride under 10mph. Plenty of dirt bike options ensure you reduce your kid's chances of injury. Take your child slowly as the ability to process info whizzing towards them takes gradual development, experience, and age. Kids this age need a lighter bike that is easier to control. Start practicing in the back garden compared to the track. Using a pushbike first is a great place to start.
7-9 years
Most kids begin to learn about dirt bike riding at this age group.
Best Kids Dirt Bike We Recommend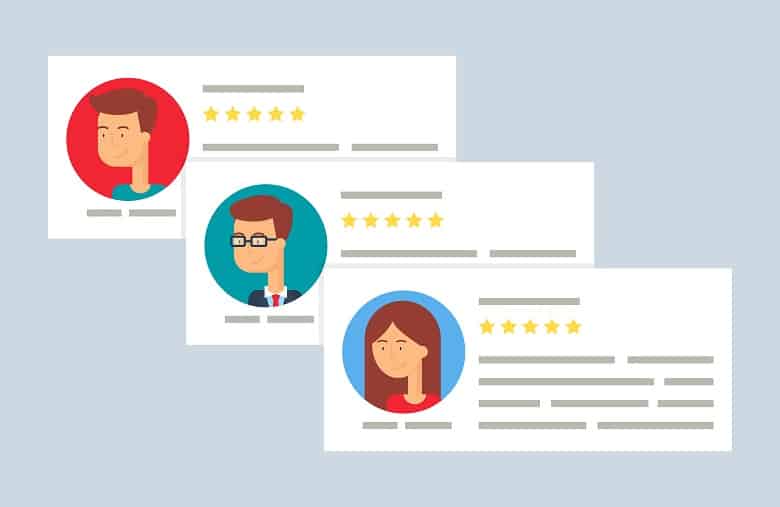 Monster Moto Electric Bike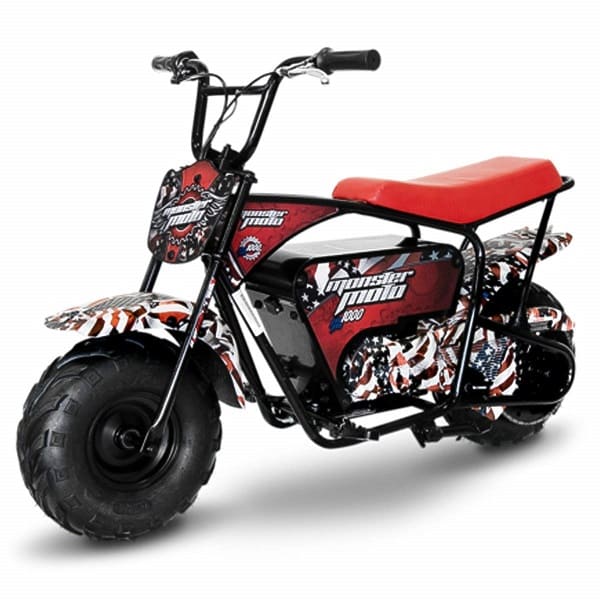 This ravishing Monster Moto Electric Bike comes with two-speed limits. It has a lower speed limit of 7mph coupled with a higher speed limit of 11mph. The Monster Moto electric bike is safe, powerful and guarantees tons of enjoyment for your little one. It has a metal frame for enhanced durability. Other highlights include thick tires, and fenders made of polypropylene.
The fact that it is easy to use and incredibly stable makes it ideal for kids aged 3 to 6 years.
Pros
Dual speeds of 7mph and 11mph
Great for beginners aged 3 to 6 years
Has a long-lasting battery that can run for up to 1 hour
Strong metal frame and fenders
Cons
The chain tends to slip off sometimes
Razor MX500 Dirt Bike
Razor bikes are no newcomers in the kids' dirt bikes arena. They are famous for their high-quality, durability and attractive designs. If you're looking for a bike that fits your budget, has enhanced safety provisions and can accommodate kids across different age groups, then the Razor MX500 dirt bike is an excellent choice.
It gives you impeccable performance and style. While its large size makes it ideal for older kids aged 14 years, those between 8 and 13 years can also comfortably ride it. Some of the features that make it better than the rest include thick stable tires and a 500 watts motor to guarantee maximum power.
The bike can run for 15 miles per hour, which is enough speed to get a rider's adrenaline pumping but not too much that it threatens his or her safety and well-being. It can accommodate kids weighing up to175 pounds.
Pros
Ideal for older kids aged 8 to 14 years
Has a powerful 500-watt mortar
A maximum speed of 15 miles per hour
Thick tires for enhanced stability and durability
Cons
May be too large for younger kids below eight years
Fun Wheels Battery Powered Dirt Bike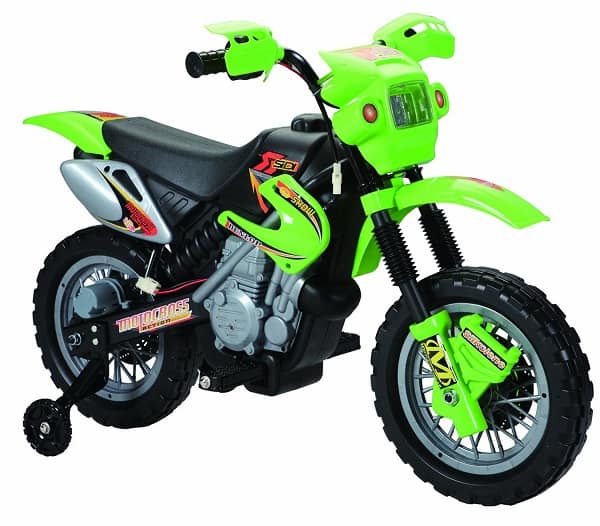 Gas-powered dirt bikes are great for adults and older kids or teens. Battery-powered bikes such as this one, on the other hand, are exactly what you need if you have younger kids aged 3-8 years. The Fun Wheels Battery-Powered dirt bike runs for a maximum of three miles per hour for 60 minutes before needing a recharge. It features a switch that your kids can use to turn the bike on and off.
The bike not only has lights but can also play music. Its wheels can only move forward with no reverse function. Watching over your kids with hawk eyes as they ride this bike is unnecessary; they can do just fine on their own. That is precisely how easy and safe it is to use this bike.
Pros
Has a maximum speed of 3mph
No reverse function for enhanced safety
Easy to use on and off switch
Battery-powered 6-volt mortar
Cons
Can be hard to assemble when newly purchased
Razor MX650 Kids Dirt Bike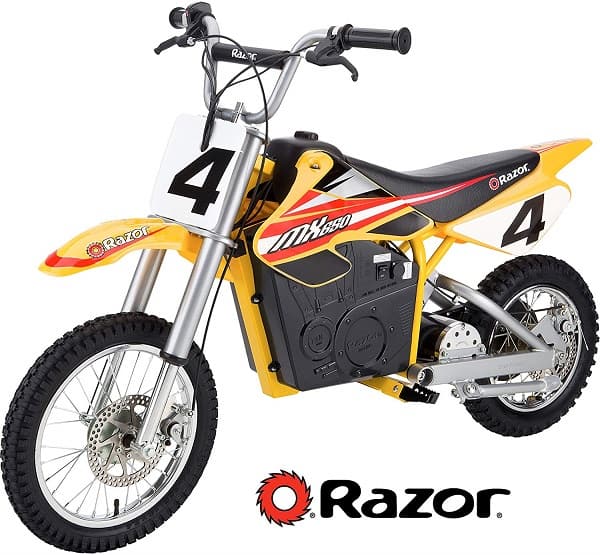 Want more power, features, and easier function? If yes, then you need to try the Razor MX650 Kids dirt bike. A far improvement from the Razor dirt bike listed higher above, this dirt bike features qualities that can get you an easy win on a supercross/Motorcross race.
It comes with highly effective hand-operated disc brakes, a powerful 650-watt mortar, large & sturdy tires, as well as folding metallic foot pegging. Thanks to its adjustable handlebars, you can rest assured that this bike will grow riding this bike. You won't have to buy a new bike every time your child grows a few inches taller.
The bike has a top speed of up to 17mph, which is fast enough to excite him or her, but not too fast to come in the way of his or her safety. It is easy to control, and so much fun to ride.
Pros
A powerful 640 watt, battery-powered high torque mortar
Adjustable handlebars and foot pegging
Features high quality handheld front and rear disc breaks
Comes with large, sturdy tires
Cons
Might be too heavy for some kids
Flying Horse Mini Dirt Bike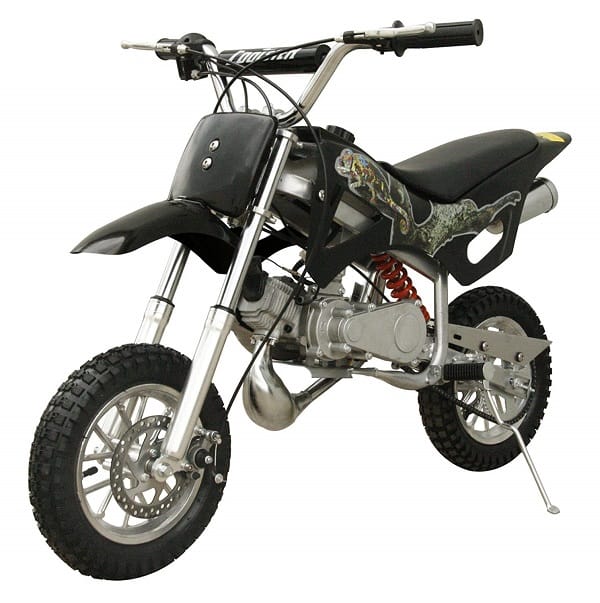 This is a gas-powered bike for riders that do not want to compromise on engine power and performance. If you're searching for an easy to operate dirt bike, you will love the Flying Horse Mini dirt bike. To operate it, all your kid needs to do is pull the rope, press the throttle, and off they go!
It comes fitted with a 2-stroke engine that would need frequent oiling and fueling to run smoothly which is a small price to pay, considering the level of performance you get. The high response dirt bike comes with 12-inch tires that have enough traction to grip different road textures.
Whether your kid is riding on a smooth concrete path or a dirt road, this bike is easy to control and doesn't skid. It is perfect for toddlers aged three years old. A variety of colors is available to suit different tastes.
Pros
Has a 2- stroke gas-powered engine
Comes fitted with sturdy 12-inch wheels
Easy to control on different surfaces
Cons
Its small size means that your kids will quickly outgrow it
Coleman Powersports Dirt Bike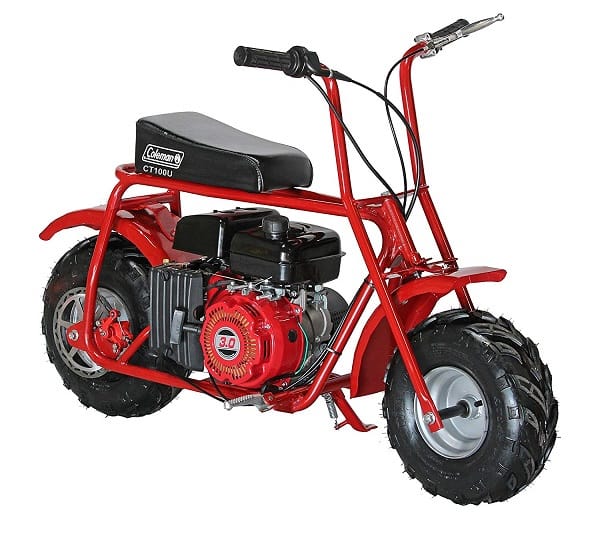 Don't be scared away by this dirt bikes' intimidating looks; once your kid gets to try it, it softens up a bit. It is ideal for a ten year old who doesn't seem intrigued by ordinary bicycles. Weighing around 82 lbs, this bike is not too heavy for an average sized kid to lift on their own.
It boasts a powerful 4-stroke gas engine with speeds up to 3 horsepower and can run for 20-25 mph. The bike brings with it handheld front and rear disc brakes which makes controlling and maneuvering through obstacles and potholes a walk in the park.
While this dirt bike may be designed for kids, it is also strong and sturdy enough for adults. It has a maximum weight carry capacity of 150lbs.
Pros
Strong sturdy metal frame
Effective handheld front and rear disc brakes
A strong 3 horsepower gasoline engine
Ideal for kids aged ten years old and above
Cons
For safety reasons, most guardians aren't comfortable with this bike's high speeds
Coolster Semi-Automatic Dirt Bike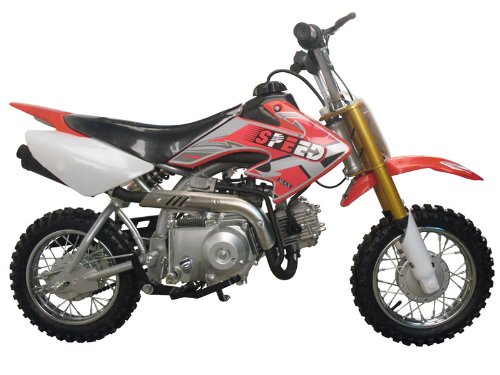 Ever noticed that electric dirt bikes cost significantly more than gas and oil-powered dirt bikes? Owing to how rapidly kids grow, parents and guardians want a good dirt bike that they don't have to spend too much money on only for it to be rendered useless in a year or two. Enter the Coolster Semi-Automatic Dirt Bike is an excellent choice.
This dirt bike is designed to consume less fuel while giving you maximum power. It can run for up to 35mph before refueling, which is significantly longer than most electric-powered bikes. Although it is a great choice for kids aged 13 years and above, it can also prove easy to ride for younger nine year olds.
The bike features a 4-watt, four-stroke gas, and oil engine. It measures 61.2 inches in height and weighs around 100 lbs.
Pros
Affordable
Impressive speed capabilities
High performance, highly efficient 4 watts, 4 –stroke engine
Cons
Might be too heavy for some kids to ride
Apollo Kids Dirt Bike
Most kids prefer simple, easy to operate dirt bikes. However, others prefer the somewhat sophisticated controls that come with riding a manual transmission. If this is pretty much what your kid fancies, then the Apollo Kids dirt bike will leave him or her in awe.
Some of its top features include a durable steel frame, hydraulic brakes, and a 125cc 4-stroke engine. Its manual transmission makes it a not only a cool looking bike but also a decent bike for those kids who love showing off their stunts.
It has a maximum speed of 55mph, weighs 148 lbs. and measures 52 inches tall. Your 13-year-old kid who's had plenty of experience riding dirt bikes can comfortably ride this bike.
Pros
Features manual transmission for enhanced performance
Has a powerful 125c 4-stroke engine
Has a maximum speed of 55mph
Ideal for stunts
Cons
Not suitable for younger or inexperienced kids
XtremepowerUS Mini Pocket Dirt Bike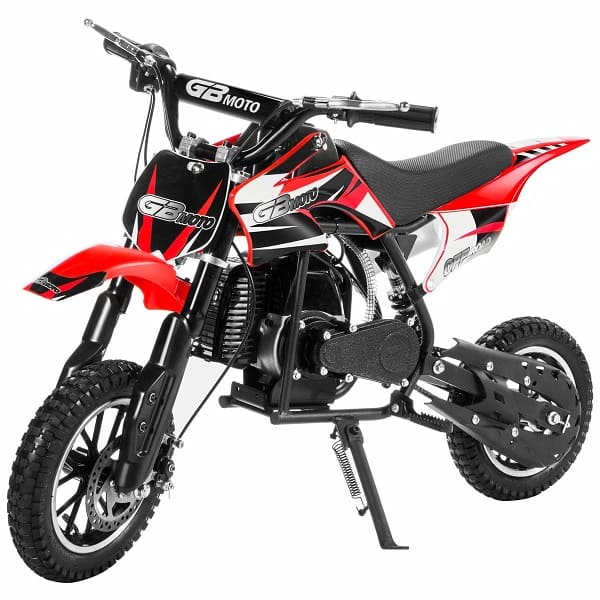 If you own a bike and would love to enjoy the riding experience with your kid, this XtremepowerUS Mini Pocket Dirt Bike is all you need. It features a 49cc 2-stroke engine that is gas-powered. On top of that, this bike has very effective handheld front and rear disc brakes. The bike can cover speeds between 15 and 20mph.
It smoothly glides through concrete driveways and parking lots just as well as it does on rough dirt roads. Kids aged 13 years or more will love riding this bike. Its unparalleled stability is credited to its sturdy knobby tires and twist grip throttle.
For enhanced safety and control, it brings with it a kickstand that's retractable and has folding foot pegging. The bike can handle riders weighing 128 lbs. or less.
Pros
Easy to maneuver and control on different road surfaces
Can support speeds up to 20mph
Features handheld front and rear disc brakes
Is fitted with a 49 cc 2-stroke engine
Cons
It needs frequent maintenance and tends to consume too much fuel if poorly maintained
Burromax Electric Dirt Bike for Kids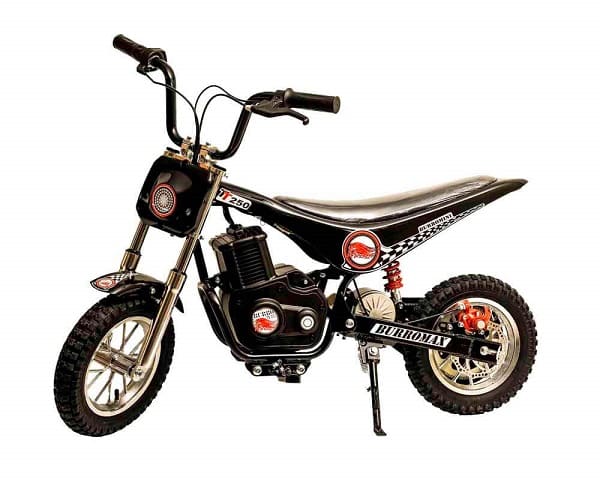 The Burromax Electric dirt bike for Kids boasts a 250-watt high torque mortar. It is battery powered and can run for two hours before requiring a recharge. The bike has a low speed of 7mph and a top speed of 14 mph.
A durable steel frame and a heavy-duty folding footrest is proof of how sturdy this bike is. The bike's adjustable handlebar works well when you need to increase rider comfort and control.
The dirt bike comes fitted with 12.5-inch wheels, as well as handheld front and rear disc brakes. It also has a keyed ignition that makes starting and shutting down the bike easy, even for a child. This dirt bike can accommodate riders who weigh no more than 250 lbs.
Pros
Has a powerful 250-watt high torque mortar
It is battery powered for increased performance
Has smooth acceleration and two-mode settings ranging from 7 to 14 mph
Has a strong, durable steel frame
Cons
With increased use, its chain falls off the drive many times
Vroom Rider 6V Dirt Bike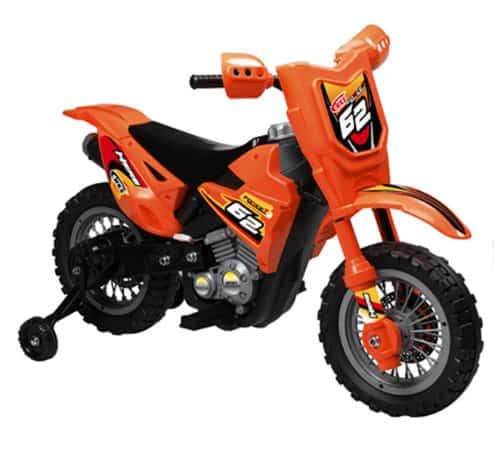 One of the most impressive highlights of the Vroom Rider 6V Dirt Bike has to do with its pocket-friendly nature. Moreover, it has a maximum speed of 2 miles per hour and can carry riders weighing up to 55 lbs. The bike weighs a paltry 23.9 pounds and is a great choice for kids aged 3 to five years. It features training wheels to help support your kid as he or she learns the ropes. Eventually, the little one will slowly adjust to riding a regular dirt bike.
Pros
Has a maximum speed of 2 mph which makes it ideal for kids aged 3 to 5 years
Comes fitted with training wheels for easy learning
6-volt battery-powered engine
Lightweight
Cons
It is not as durable as most bikes in the same class
XtremepowerUS 40cc Kids Dirt Bike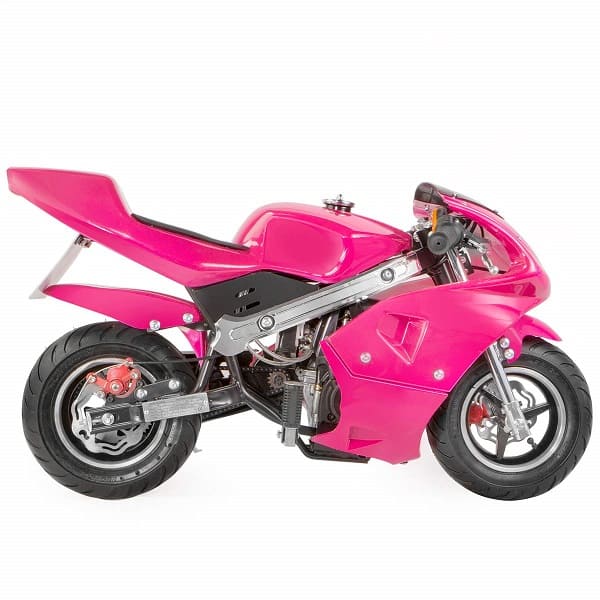 Everything about this bike proves that it's no ordinary dirt bike. It has a durable steel frame, a powerful 4-stroke 40 cc engine, and 2 thick, sturdy tires. Kids aged 13 years or older will find unfathomable excitement in this gas-powered dirt bike because of it's over the top performance. Designed to withstand bumps and falls, it's hard for this bike to get damaged.
If properly maintained, it will consume very little fuel while taking you further. A strong engine life is a good sign that this isn't a seasonal bike. It can accommodate your kid's needs as they grow for years and years right into adulthood. In fact, it can support riders weighing 165 lbs. at most.
Pros
Maximum weight capacity of up to 165 lbs
A powerful gas-powered 4-stroke 40cc engine
Beautiful yet professional dirt bike design
Consumes very little gas while running for longer
Cons
Inexperienced kids may find this bike's bent riding position uncomfortable