In this age and era, people have become fashion conscious. And the athletic field is not left behind. Professional athletes are putting efforts to be well-styled during competition of training. The sportswear industry is geared towards fashion-conscious wearers. A piece of jewelry compliments your look and give a fashion statement. Therefore, having an ornament is recommended.
However, most of the sportspeople refrain from wearing jewelry due to its weight. But that cannot hinder you from wearing your precious necklace or earrings.
So, what are the advantages of athletic jewelry?
Unlike conventional jewelry, athletic ornaments are;
Tight – to ensure there is little or no movement during training. Any slight movement can cause blisters and wounds.
Low weight- Weight ornaments can hinder your performance in the arena. More so, it can distract your focus. Thus, a low weight will enhance your look and allow you to boost your performance.
Made of rubber – Rubber is lightweight, flexible, and durable.
Recyclable – The best athletic ornaments are recyclable.
There are a plethora of athletic jewelry ideas. Athletic charms range from fitness, ball games, hockey, to tennis.
Let's get to the nitty-gritty.
Athletic ornaments are widely spread, starting from boxing, baseball, weight lifting, strength training, basketball, among many others.
Fitness Jewelry
1. Bella beat Leaf Tracker
This is simple yet powerful jewelry, which will help you keep fit. It's composed of hypoallergenic stainless steel and wood composite material, which is ideal for sensitive skins. The ornament is asleep, activity, and reproductive monitor that helps you cope with stress through weight training workout. The item is compatible with iPhone 4s and Android.
You can wear it when training and with your official or casual wear.
2. Barbell Nacklace
Hey gorgeous! If you're a fitness freak and want to showcase your love for sports or gym, then a barbell neckless is ideal. You can wear it when heading to yoga, fitness studio, or gym.
It's not only limited to a training environment; you can also wear it on a date. This is more of killing two birds with a single stone! The ornament represents fitness, inspiration, bodybuilding, motivation, and inspiration.
3. Weightlifting Necklace
A report by the Harvard Medical School indicates strength training can slow bone loss and boost your cognitive skills. A weightlifting necklace shows that you're dedicated to working out. The chain will help you explore your lifting dreams while feeling motivated.
4. Dumbbell Earrings 
Ladies love their earrings unique. They have always been stunning and low maintenance charms to put on. Keeping fit is the new norm. But having something to motivate you keeps you going.
And a stunning pair of dumbbell earrings will enhance your performance. These items come in a variety of types, sizes, and finishes. You, therefore, need to choose what fits you most.
Boxing Jewelry 
This is not just a game but a passion. Boxing is a dream for many, but only a few make it to the end. Why? It's tough and easy to give up.
However, for the enthusiasts, it's entertaining. You can try a boxing glover charm bracelet. You can also get a glove pendant engraved with an inspiring fitness hashtag.
Basketball Jewelry 
Apart from having your jersey number, you can add an ornament to show the world that you're a passionate baller. Basketball bling is also a great gift idea for fans and players.
7. Basketball Pendant 
Basketball is quite entertaining. Although it's a rigorous game, it doesn't limit you from wearing your favorite jewelry. A basketball pendant has a timeless design with a stunning finish.
However, ensure it doesn't dangle on your neck. If it's long, you can request the vendor to reduce length. More so, ensure it's not weighty. This might distract you from focusing on the hoop. It can also hurt you when it moves up and down.
Ensure you also choose an item made of soft fabric. Since they come in a variety of colors, only choose what suits you the best.
8. Charm Necklace
Getting into the arena is one thing, and winning is another thing. The core difference between a winning and a losing team is the motivation.
And how can a person or team feel motivated? Stunning basketball jewelry does the trick. A charm necklace is an excellent gift for the coach, player, or fun. It gives you the belonging feel.
The necklace indicates your fighting spirit and proves the love for the game.
9. Customized Basketball Charm
Winning in the court can be a great feeling for any player. But having a personalized charm will give you more motivation and inspiration.
A necklace with your name and jersey number can be a thoughtful idea. A customizable charm gives you the freedom to choose how your ornament looks like and the kind of finish you want.
10. Handmade Basketball Earrings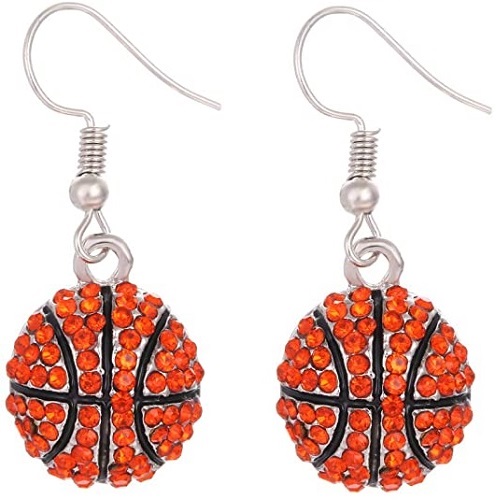 Are you an NBA fan or player? Then this athletic jewelry idea is the best bet. You need to stand out and still perform in the court.
The DIY earrings can have a mixture of an orange and black background to mimic the basketball ball. But you must be extremely careful about the material, especially if you have sensitive ears.
Soccer Jewelry
Perhaps, soccer is the most-watched game across the globe. The tournament attracts millions of fans and showcases incredible talents.
11. Football Bracelet
Football bracelets come in various forms. A suitable bracelet will fit tight and look irresistibly high. It shows that you have a good fighting spirit in the field. The trendy bracelet can be worn every day and anywhere as a stylish accessory. The item can be made unique and an eye-catcher, not only in athletics but also in festive occasions.
12. Studs
Which is your favorite team? What's the color of their jerseys? There are various gift shops that can customize your studs to suit your team color. If you're a Chelsea player or fan, a blue stud with bits of white colors can be ideal.
13. A Ring 
When playing soccer, your hands won't be much involved. Hence, wearing a ring is entirely appropriate. What has your team achieved? You can get the ring customized based on your team performance.
14. Round Soccer Ball Charm 
If you have a plain chain, you can turn it into a piece of athletic jewelry by adding this ball. You can also add it to a bracelet. The product is lightweight; therefore, you won't feel it as a burden. Choose your favorite color, but more importantly, consider the material used.
You can also get athletic jewelry ideas such as;
15. Run Necklace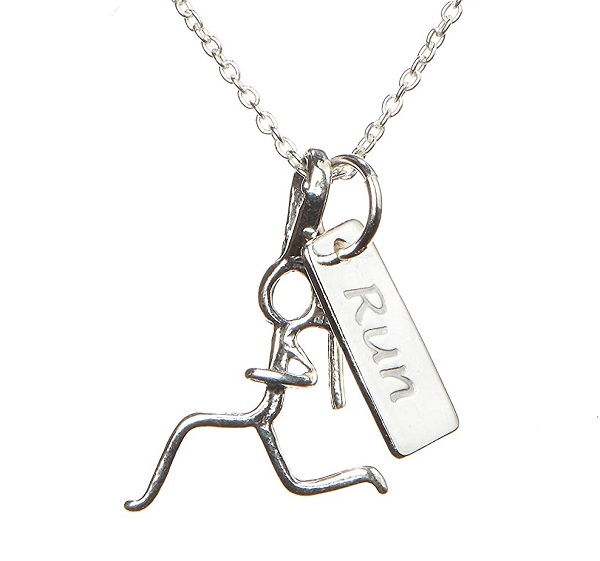 When you're choosing running gears, a piece of jewelry might be of less concern. However, times have changed, and athletes are expressing their interest and individuality.
A well-designed ornament allows you to express yourself and give a fashion statement. A necklace stamped with "run" shows the world that you're in love with trails.
16. Marathon Necklace 
Are you a marathoner? Then find an easy and stunning way of expressing your love and passion about racing. A marathon necklace reminds you how beautiful you are. However, ensure you get a durable and quality item. The sterling silver material is known to boost durability and look.
More so, choose the perfect size to ensure it's not hangy. When it comes to cost, you don't really need to break your bank. It's possible to get an elegant design at an affordable price.
17. Road ID Bracelet 
Both long and short distance racers need to secure their safety. Running in remote areas and the unknown neighborhood is not always fancy. The unexpected can happen. It could be an animal attack or losing your track. A road ID bracelet will increase your safety. It will have your details engraved on the faceplate.
18. Bicycle Charm 
Biking is a popular outdoor leisure activity that has been widely embraced. By 2017, the number of cyclists in America stood at 47.5 million. The number of electric bike sales has significantly increased. If you're a biking enthusiast, having a bike charm boosts your individuality.
The ornament reminds you of who you're and your passion for biking. You can wear the charm anywhere and at any time. You can add it to a necklace or a charm bracelet.
19. Swimming Ornament
Well, wearing fine jewelry in a swimming pool is not recommendable. Chlorine in the pool is corrosive, but it's not harmful to rubies, sapphires, and diamonds. However, this chemical component might harm your yellow or white good, and worse to sterling silver.
You should, therefore, consider diamond jewelry. For example, grey diamond earrings are comfortable, lightweight, and they won't fall when swimming.
20. Silicone Ring
A silicone ring is extremely comfortable, skin safe, and durable. It's perfect athletic jewelry for people from all walks of life.
The item is made of rubber and skin-safe material. This means that people with sensitive skin will find peace in this item. You can wear it to the gym, when playing soccer, basketball, football, or even when swimming.
21. Tennis Bracelets 
When it comes to tennis, uniformity is essential. While there are several in the market, it's prudent to choose the right quality.
Tips for Choosing the Right Athletic Jewelry
Picking the right ornament can be unnerving. But with the necessary information, it becomes a seamless affair.
Safety and Comfort Comes First
Looking fancy is all good. But when it comes to training and competition, you might need to choose between a sleek look or safety. If you're a fitness freak, safety at the gym is paramount. If you're in vigorous and sweaty workouts where you can have upside-down movement, then avoid dangly necklace. It can hit your tooth, or get tangled in your hair, or distract you from having a clear focus.
Most of the rigorous athletic activities are done best without bodily restrictions. But if you must wear an ornament, then choker style necklaces and bracelets made of soft fibers are ideal.
Hygiene is Paramount
Hygiene is an essential factor to consider in everyday events. It's not only limited to gym or training trails, but also in ensuring your ring is clean. Germs can spread fast in dark, moist places. Hence, ensure your jewelry is free of soap residue or scum and dry it properly. The power washing makes the ornament stay luminous and look beautiful always.
Understand Jewelry Symbolism
This might take a tiny percentage of the visual presentation, but you can't get away from it. More so, people may have a different opinion of the same ornament. To some, a ring symbolizes wealth and success while, to others, rings are associated with organized crime affiliation.
Therefore;
Wear meaningful jewelry – don't give your fans a hard time trying to interpret the meaning of your charm. Ensure the design or logo is visible and relates to your athletic field.
Know when to wear – A sterling silver bracelet is a no-go zone when it comes to swimming. Hangy necklaces may end up hurting you when playing soccer or basketball.
Keep It Simple
Although you'd want to make a fashion statement, ensure you tone down your jewelry. In short, keep it simple. When it comes to necklaces, keep it light and straightforward.
Price is Imperative
Looking classy comes with a price. However, this doesn't mean you break your bank. Undoubtedly, the market is saturated with various ornament varieties. Different brands retail these products at different prices.
It's, therefore, advisable to pick an item that suits your budget.
Select Material
Swimming with ornaments made of sterling is not recommended. The chlorine in the water will make such items fade away. Gold, diamond, and stainless-steel materials are durable, corrosion, and rust resistance, making them ideal in designing athletic jewelry.
Buy from a Reliable Seller
Perhaps this is the most crucial part. A Reliable jeweler will give you the necessary information about your preferred ornament. You can also get advice based on your skin sensitivity. Furthermore, you're given a guarantee of getting a durable item.
In Conclusion
Today, there is a myriad of athletic jewelry on the market. They come in different sizes, brands, prices, and colors. This guide will help know how to select and get the idea of what to wear and when.